Message from Chairman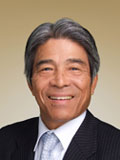 This Association was established as the Japan Physical and Chemical Appliance Association on December 10, 1945, less than four months after the end of World War II, when the horrible scenes of damage and destruction still remained all across Japan. Members who rose from this devastation have promoted activities as behind-the-scenes workers for the restoration of Japanese industries by banding together and overcoming various difficulties.
At present, there are over 1,000 member companies, having increased from 46 at the time of the establishment, built across a nationwide network.
Japanese scientific instruments, owing to their high accuracy and reliability, get strong support from a large number of users and have contributed to R&D and the expansion of the scientific industry in Japan.
We strongly recommend that you utilize Japanese scientific instruments to promote the expansion of R&D in your country.
Chairman Hideto Yazawa
General Corporate Juridical Person Japan Scientific Instruments Association
Aug. 2018